DEPTHIQ™ — software solution enabled by a simple one-layer hardware add-on
Standard 2D camera
DEPTHIQ 3D camera
Sensor Module HW
Lens System
+
Optical Encoder
+
2D CMOS sensor
Image Processing SW
Prefiltering
Decoder
ISP
Image Signal
Processing
IDP SW
Image Depth
Processing
Application
Optical Encoder +
CMOS Sensor

+ Lightweight Algorithm = 3D Vision
we take advantage of the light itself.
physics does the math for us
DEPTHIQ™ uniquely detects the direction of light.
Diffraction creates a depth signal by modulating light
Inherently correlates & compresses raw data resulting in depth per pixel
patented optical encoder
DEPTHIQ™ uses diffraction to measure depth directly through our optical encoder (TDM) — Transmissive Diffraction Mask — designed for and applied over any CMOS image sensor.
TDM Stack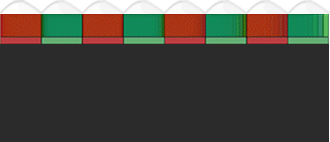 Standard CMOS
Image Sensor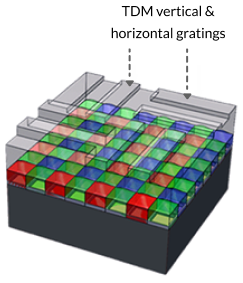 lightweight software pipeline
Our Image Depth Processing (IDP) software block generates the highest frame rate sparse depth maps with extremely lightweight in-video stream compute.
Image Processing SW
Prefiltering
Decoder
ISP
Image Signal
Processing
IDP SW
Image Depth
Processing
Application
instant, fascinating results
Anti-spoofing
Accurately detects image-based spoofing attempts.
Live Video Bokeh
Apply background blur while maintaining a sharp image on people and foreground objects.
3D point cloud
Point cloud rendering from a single frame from a single sensor